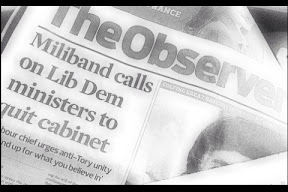 The more I read our national press the more it becomes apparent that British journalists are like semi intelligent pack animals trained by their masters to produce stories within a narrow band of political ideology.
Admittedly journalists are cleaner than animals as their crap ends up in print or broadcast, but they are nothing if not relentless in attacking Lib Dems, which continues unabated, with Clegg hammered daily, the Observer had Ed Milliband, asking once again for Libs to defect not for the first time.
Saturday the paper's were bitching about, AV and how this was another blow to Nick Clegg, failing to mention this was also an issue for which Ed Milliband who also campaigned.
I wouldn't say I've actually been approached by other parties, but just why would anyone ditch their party, in the same way, Mrs Me is a keen Chelsea supporter, for many years and even though this year has been a wash out, I understand (I don't do football) there would be no way she'd ever switch her support.
Labour nationally and locally have failed to make any truly significant inroads, yes they gained a few seats but even here in on the Isle of Thanet, despite social deprivation, a bleak outlook, they couldn't win, even after herds of Labour top knobs & dib dobs, had flooded the area.
Maybe controversy surrounding Thanet Labour's recent abandonment of social housing, arguing against job creating investment or indeed that rather unpleasant mess surrounding Northwood Ward which I suspect is not yet over, in fact I could well envisage a situation in which Labour's leader will need some considerable help to hold on to the leadership.
Locally we are in for some interesting times, nationally and for us Lib Dems, we have hit the bottom, and things will improve, speaking for myself, I think Nick Clegg has acted for the best interests of both the country and party, like dogs, eventually the press will move on, perhaps to chew on Labour's poor leadership.
Finally on Milliband's current and previous invitations for Lib Dem's to join Labour, no thanks, Labour had a great past but is now run by professional classes, which seems to exists only to serve the public sector having long abandoned ordinary people.