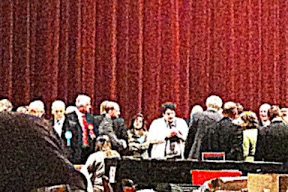 Just got in from last nights or rather this mornings election count as you can imagine quite an intensive evening and in places exceedingly boring as the count went on forever and as I left at seven, there were still some awaiting their fate however it was fairly clear that labour had made quite an inroad into the Tory vote.
In Dane Valley Labour had a big win which I am sure had nothing to do with the 28 strong crack team of canvassers bussed in from London and rag bag of front bench Labour MPs and also runs.
Still a win is a win and well done to Sandra Hart who had the biggest vote, also my thoughts to those who in the past who have worked particularly hard, like Michael Jarvis for the residents of Dane Valley and did not get re-elected.
Still I shall get back to blogging, having felt inhibited during the election, at what might prove an interesting time as Labour and Tory fight over the result.
Again thanks to all those who made the effort to vote, since your participation makes the process worth doing. in
I see one disgruntled Tory, who for reasons best known to himself, wasnt at the count, troubles himself thus "

No sign of any impact whatsoever from the LibDem's Bill Furness or Bloggers Tony Flaig or Matt Brown,
in fact incorrect I had around 270 votes, given the background of an unprecedented media campaign against Liberals by the mainly foreign owned press, and Labour's sour grapes clearly not the greatest result but something I'm proud of and which I would like to thank the voters for whoever they chose, Cheers.