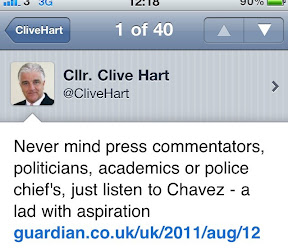 Last weeks riots in most people's view were about nothing else than the manifest greed and lack of morals of a small minority of yoofs.
However it seems that Labour, are rapidly moving from the consensus of blatant criminality, I suggest you follow the link to this Guardian article no surprise reading this you will find it follows the new Labour theory, that cuts are to blame.
Most people including Labour were of the opinion that criminals were to blame less than a week ago.
Since jobs concerns are at the forefront of new theory I wonder how Clive Hart feels as his party have done much to kill both aspiration and jobs in Thanet particularly in relation to Manston.
A good old fashioned "I'm alright jack" attitude from Labour old boys.